22/Aug/07 20:24
+ I didn't actually 'intend' on updating on the 22nd again, but that's just how it worked out. Weird? Well, maybe. It does give a nice sense of symmetry though, even though it wasn't planned (see my last update).
+ Well, I've been able to do a lot of hiking and have taken a lot of photos this summer, which has been great inspiration to get back to a 'mountain landscape-Canadiana' type of work, which I am really fond of and which gives me such a great feeling. My other series is still in development, but I'm just not sure it's 'me' or whether it will see the light of day. Anyway, I did take a small video from the top of Buller Pass (in the Kananaskis), which you can have a look at (Note: I took it down in Nov....sorry!). It was a great panorama and I tried to film a 360 degree view. Now, the wind was probably 200 km (I may be overestimating slightly), but it was actually hard to hold the camera. As for the sound, all you can probably hear is the wind!
Here is a shot from Buller Pass overlooking Ribbon Lake. The photo doesn't even hint at the strength of the wind at the pass!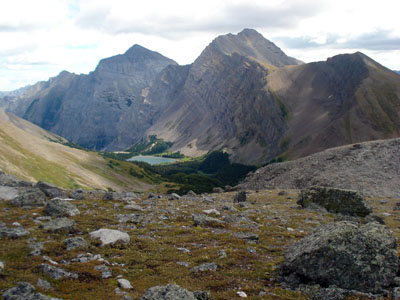 As well, for my efforts at taking photos and wearing such thin gloves, I even got a small bit of frostbite, which is known as frostnip. Even though it returned to normal within about an hour, it was a strangely scary experience, especially as a guitar player.
Just remember: when you're going into the mountains, make sure you bring gloves and extra clothes. The weather really can change in an instant, especially at the top of a mountain....(kind of like life, really).