+ November 2007:
+ Keystone Art Gallery
You can now purchase and view my work at Keystone Art Gallery in downtown Calgary, at 207, 100-7 Ave S.W (Art Central).
Call Daniel for more information at 237-6637 or e-mail him at
mail@keystoneartgallery.com
.
+ Nov 1-3, 2007: Studio Art Sale
I have four prints available at the Studio Art Sale and Bohemian Extravaganza in Downtown Calgary at the Triangle Gallery (Macleod Trail, between 8th and 9th ave.).
Contact me or see www.trianglegallery.com for further details.
+ December 2007:
+ SNAP Gallery (Edmonton)


SNAP Gallery in Edmonton is having their annual "Perfect Christmas Print Affair" from Dec 8-22nd Tuesdays to Saturdays, 12noon-5pm.
Most prints will be under $100.00 and will feature eight of my original works.
Check it out in the Alberta capital, if you're around!
SNAP info:
10309 - 97 Street Edmonton, T5J 0M1 Alberta, Canada
T. 1-780-423-1492
E. snap@snapartists.com
W.
www.snapartists.com
+ Keystone Art Gallery
Keystone will be having a small print show in December. More details to come!
+ Keystone Gallery: "Emerge & Eclipse"

Featuring new works by R. Shawn Johnsen and Stacey Bliss.

April 19-30, 2008.

Opening reception: April 19 from 2-4 p.m.

207, 100-7 Ave S.W (Art Central).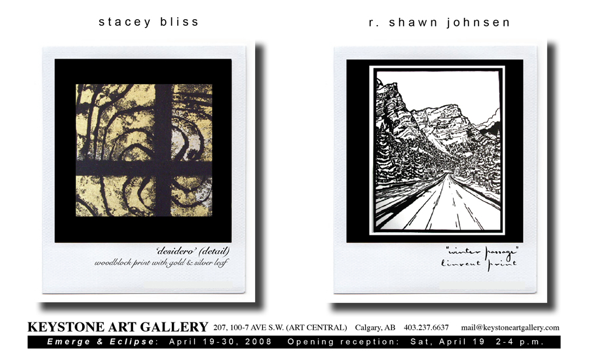 + Upcoming shows:
In October I will be the featured artist at the "Cochrane Ranche House" as a part of their local artist series.


+ Location work:
This June and July have been great for getting out and enjoying the mountains with my yearly series of hikes (Opal Ridge, Yamnuska, Tent Ridge, Galatea Lakes, among others thus far).

There have been some very precarious conditions at times as well as some very unpredictable weather! All in all though, I have gotten a lot of inspiration and many great ideas for some new work and will start on the drawings for the new plates towards August. Look for some photos in the commentary section in the next month.



+ ETSY.COM:
I am just setting up my account at Etsy.com, so you will be able to purchase my work online at any time. Feel free to contact me directly though regarding any of the pieces and for price/shipping information.
+ The Whyte Museum
in Banff will be featuring the work of myself and another artist in the 'Swiss Guides Room' starting on September 5th. The opening will be on September 12th from 7-9 p.m.

This is a great honour to be included in their fall series of shows, as so many of my favourite artists from the past, including the Group of Seven, W.J. Phillips and Margaret Shelton have had their work featured here.

Watch for the invitation in the next week!

+ The Cochrane Ranche
will be featuring a display of my work at the Ranchehouse, just off of highway #22.

This is a part of their local artist series and will run from January 1-15, 2009.

Stop by if you have a chance!